Recently someone sent out a tweet asking people to retweet their favorite children's book. We retweeted The Monster At The End of This Book and the tweeter asked back, "Is it scary?". We assume they had not heard of this book so when we decided to start a blog focusing solely on funny picturebooks we had to start with this one.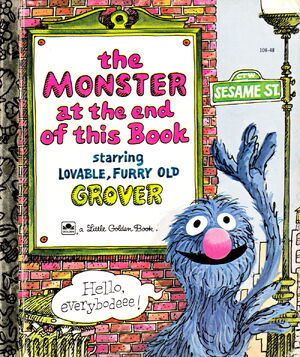 Ready to feel old? This book was originally published in 1971 so it makes sense that new parents may not know about it. Trust us, it is timeless and just as funny today as it was when Three Dog Night's 'Joy To The World' was topping the charts. We told you it might make you feel old :).
This is a quick read picture book where lovable Grover attempts to construct barriers to keep the reader from turning pages. There is a monster at the end of the book and he is very scared. As pages are turned destruction escalates and Grover becomes more and more frightened. We won't spoil the ending in case you are one of the few who hasn't read it, but everything works out in the end.
Our favorite part of the book? "Did you know you are very strong?"
This is one of the few books you will read to a child where it will turn into a writhing fit. Our experience is that the child will either want to help Grover keep the pages from turning, or will take glee in turning the pages to cause destruction. Either way fits of giggling and shouting will erupt.
This is not a bedtime story.
This book will be even more fun if you imitate Grover's voice while reading. Channel your inner thespian, read this to a preschooler and get ready for the fun.
Here is a youtube link of Grover reading the book if you want to practice.
http://www.youtube.com/watch?v=vafs4yFNtQ8
Do you think another picture book is funnier than this one? Leave a comment and we'll take a look at it for a possible review, and please let us know if you have a fun time reading this to one of your little ones!